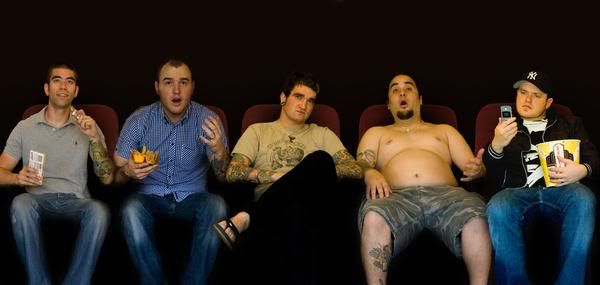 Coral Springs pop-punk diehards New Found Glory (remember when their name started with "A"?) have announced that they're turning more to the "punk" part of their roots, kind of. As of yesterday, the band has officially signed with punk-centric indie-major Epitaph, with which it'll release its forthcoming seventh studio album.
Good move, in my opinion. While NFG had some bona fide mainstream success, it seems like in the last few years, the group never quite achieved the full pop liftoff scored by later acts like Fall Out Boy. The quintet's last full-length, the all-covers From The Screen To Your Stereo Part II, reached just #42 on the U.S. Charts. Sure, that's nothing to sneeze at, but consider 2002's Sticks and Stones, which reached #3 and was certified gold, or 2004's Catalyst, which reached #3 and also was certified gold.
The last couple of albums were released by Drive Thru, but really, that imprint functions largely as a subsidiary of Geffen, a major label currently suffering all those typical major-label woes. New Found Glory was probably not a high priority, and a quote from lead guitarist Chad Gilbert in Epitaph's press release seems to reflect a simmering frustration:
"Picking a new label was a scary thing for New Found Glory," explains Chad Gilbert. "The music industry has been changing so much and more and more bands are being treated and presented like some Wal-Mart pop act with guitars. We have real diehard fans and we wanted to find a home that would represent NFG the right way. A label that knew our music scene. Epitaph is the place to be! They were all longtime, true fans of new found glory and they understand us. We aren't just some record to put out before the new Pussycat Dolls CD! A real music label. We were over the big business of the majors."
Epitaph, for all its big-deal distribution and healthy fundage, seems to still be a very person-oriented label, with founder Brett Gurewitz still a very visible part of the operations. Hopefully, the switch will allow NFG to drop the big-bucks, go-gold concerns, and reconnect with its core fan base.
Oh, and you know what else might help the band reconnect with its fan base? Some high-profile local homecoming-type shows. Just sayin'. -- Arielle Castillo