Day 3, Friday, March 14
I'll admit, by Friday, day 3 of SXSW, I was already starting to feel the exhaustion a bit, and I was starting to need some motivational cheerleading. Luckily, I got to start the day off easy with the daytime party thrown by the Miami and Broward-Palm Beach New Times' parent company, Village Voice Media, at the cavernous venue La Zona Rosa. The lineup: Health, the Cribs, the Black Keys, The Soundtrack of Our Lives, and ....And You Will Know Us by the Trail of Dead.
You can read a review of the Black Key's set, penned by Pete Freedman, music editor of New Times sister paper the Dallas Observer, here.
You can also stream a live track from the party, of a newly debuted Black Keys song, here.
Next up, it was out of the crush of the main SXSW drag around E. 6th Street, past downtown Austin, to catch up with hometown boys Torche, who were playing one of a couple of Vice magazine parties on the same block. I walked into a large, sun-bleached park that looked like Williamsburg, Brooklyn, or whatever the Austin equivalent of it is, had puked all over it and distributed lots of free booze on the way -- of course, tall-boy cans of Miller High Life and Sparks. No free water, though, which is why it's so easy to remain, um, tipsy throughout the span of this whole thing.
Slurping on a high-octane Sparks plus, I was checking out some metally looking merch and a Motörhead-logo-painted Scion (nothing says metal like a Scion) when I realized that, 15 minutes past Torche's set time, nothing much was going on stage. Then I quickly realized, I was at the WRONG Vice-sponsored, metal-heavy show full of cool kids on the block. Torche was at the one across the street, at the Longbranch Inn, a really awesome barbecue joint/dive bar that looks ready to fall apart five minutes ago.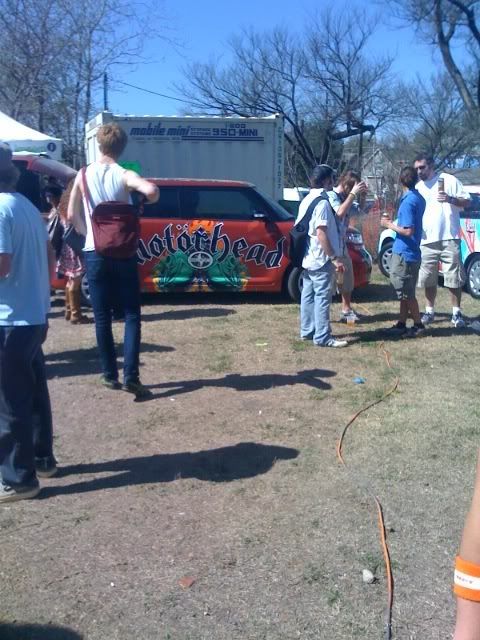 With a car like this parked inside, can you blame me for thinking Torche might have possibly been playing there?
Torche always plays with bands with equally awesome names -- for this gig, they were preceded by L.A.'s Moonrats and followed by Bristol, England's Fuck Buttons. To sum up: the band was impossible to see because the place was so packed, and outside, a random, blown-away looking dude in his late thirties told guitarist Juan Montoya: "You guys are the heaviest thing I've heard, ever, in a long, long time." Word.
Graffiti on the outside wall of the Longbranch Inn. I hope those are real band names.
Back to the thick of downtown, and to -- gasp! -- another country-specific barbecue in Brush Square park! At the previous day's New Zealand barbecue, after a few glasses of wine I found myself in a conversation with an awfully friendly, charming, dreadlocked chap who marvelled at squirrels and regaled me with tales of the kangaroo problem plaguing his property at home in Australia. (Apparently, the large kangaroos keep smashing down his fences so their joeys can hop over. I laughed, but Aussies don't find them funny, sadly, only mischievous and destructive).
Well, heading towards a distorted, bluesy commotion blocked by lots of grooving Australians under my tent was ... my kangaroo friend! It was one of SXSW's many unexpected surprises, for while Ash Grunwald is a hero in his native Australia, he's just breaking out over here. Let's face it, Aussies are a little hippieish -- there was a lot of flowey paisley in the assembled crowd, and Grunwald has a song about being saved by a dolphin after a surfing mishap. But he makes an astonishing, beautiful blues racket as a one-man band, armed only with a guitar, a stomp box, and a couple of other small trinkets. His passion while performing is completely entrancing, and the songs so well-crafted, but still infectiously rambling, I couldn't blame the shuffling two-steppers for dancing.
On, again, to the Fader fort, some kind of rambling, indoor/outdoor space taken over for the week by Fader mag expressly to showcase the coolest music across a range of genres (common thread: good), and shower attendees with more free booze (again, the ubiquitous Sparks -- hey, the caffeine helps). This was one of my luckiest scheduling accidents, as I was able to catch one of my favorite new bands of the moment -- Working For a Nuclear Free City, from one of hte best cities for music ever, Manchester, England!! Like their Manc predecessors, WFANC perfect walking the fine line between acid-dipped rock and dance, with keyboard-driven percussions and reverbed vocals that would make Ian Brown or Shaun Ryder proud. Seriously, they sound like a more teched-up second coming (pun intended) of the Stone Roses. Only complaint here is that the set was too short for them to settle into a proper tripped-out groove, but I'll take what I can get.
Working For a Nuclear Free City at the Fader fort
The next microstop was at a small venue to check out The Dirty Novels, from Albuquerque, New Mexico. One of the forerunners in an American microscene, greatly helped to link up by the Internet, of gritty, glammy bands influenced by the best bubblegum, glitter, and trash of the past. Led by the impossibly tall, impossibly skinny, impossibly fashionable Pablo Novelas, their take on the sound is more buoyant than that of the Johnny Thunders-aping depressives, but still not wandering too far to the other, slicker end of the spectrum. In other words, they play rough, ready rock and roll that also knows how to pretty up. Can someone possibly start one or two more of this type of band in South Florida? Please?
After that, it was time for another intermission of a couple hours, in which I consumed the only non-taco, non-barbecue, non-free-shit meal of the trip. And after recharging, the last stop of the day, to see...
Torche again! Can I help it if they kick ass, and are also now on a super kickass label, Hydra Head, throwing its own showcase at Red 7? While I missed the earlier part of the evening's lineup, I did catch penultimate act, the intellectual, noisy weirdos of Harvey Milk (not from San Francisco, as was their slain gay politican namesake, but rather from Athens, Georgia). Fun fact: they now boast a former Melvin (Joe Preston) among their ranks, and at least a couple of them are public school music teachers, or something. Their music has been described to me as "demented," and I'll take that. It's utterly, totally, unpredictable. I'd be staring into space for a moment too long, or having a pretty audible conversation with someone, and BAM! Out of nowhere, a chest-vibrating, totally sludgy chord. And again. And again. Not for dilettantes.
Now, Torche, in a triumphant headlining slot. With an even better sound system, a bigger (and more packed) venue, and a headlining slot, again, they killed it. You know a band is heavy when you get whipped by the flinging hair of the guy behind you – I felt, as my ears were getting deliciously pummeled, as though I were also passing under those droopy blue things at the end of a car wash. No surprise, then, that after this it was bedtime for me again. -- Arielle Castillo
Torche, headlining the Hydra Head showcase at Red 7
Singer Steve Brooks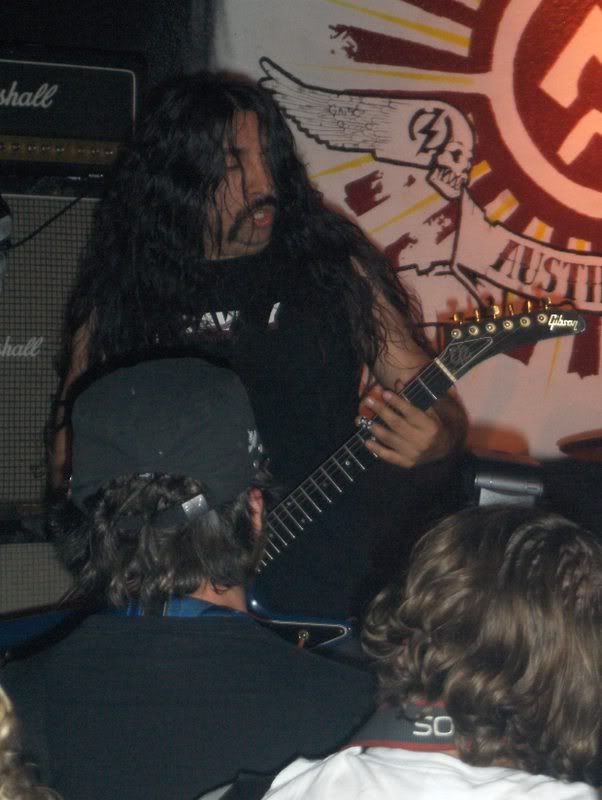 Guitarist Juan Montoya