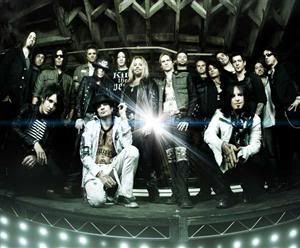 For the last couple of days, there was a lot of buzz all over the Internet, and even locally on the radio (93 ROCK) that Mötley Crüe were to make some sort of special announcement live last night at 7 p.m. And, okay, no band would announce something SUPER-devastating or earth-shattering with so much hoopla -- but the results should make rawk-and-roll fans happy just the same.
First, the band --featuring all of the original members! -- will release an album of all-new material, Saints of Los Angeles, on June 17. Of course, guest stars abound: Josh Todd (Buckcherry), Jacoby Shaddix (Papa Roach), James Michael (SIXX:A.M.), and Chris Brown (Trapt), which leads us to the second part of the announcement:
CrüeFest '08! Mötley Crüe's own headlining package tour promises to be a beer-soaked good time that should bridge age gaps more successfully than other traveling hard-rock festivals. Nikki Sixx fans, especially, will be happy about a double dose -- his own SIXX:A.M. side project also headlines. Allow me to be excited, even if that means a few docked hipster points.
Backup support comes from Buckcherry (IMHO, purveyors of solid, straight-ahead rock who are often sort of unfairly maligned), Papa Roach (oh well, some things can't be helped -- they also opened the last time "Guns N Roses" played here), and Trapt (um, no opinion, can't remember).
The tour kicks off July 1 in West Palm Beach at the Cruzan Ampitheatre. Tickets go on sale this weekend -- check www.livenation.com -- but if you want to get them even earlier (buying tickets to anything is so confusing these days!), you can visit www.therockvine.com.
The announcement comes fresh on the heels of Bret Michaels' recent solo performance after a Marlins' home game, and an announcement of yet another Poison concert slated for West Palm Beach this summer -- with Sebastian Bach and Dokken! -- at the Cruzan Ampitheatre. (The band also played there last summer, with Ratt, when the venue was still known as the Sound Advice Ampitheatre.) These Eighties hair rockers sure do love them some South Florida! -- Arielle Castillo