Iron and Wine
April 12, 2008
Revolution, Ft. Lauderdale
Better Than: A cellarful of John Henry.
Saturday night at Revolution, the 999 other keen-eared indie music types in attendance formed, perhaps, the best-behaved bunch of rock club attendees I've ever encountered. The object of their focus: Sam Beam, the man behind the moniker Iron & Wine, whose musings stilled the house into reverence.
Except for a holler of "Fuck" during the first song, an all-encompassing hush it was. Beginning with "The Trapeze Song," intersecting with "Resurrection Fern," then segueing through "Jezebel," Sam and some harmonious sidekick silenced the onlookers until their last syllable. Think Once on a bayou, and you'll get the idea.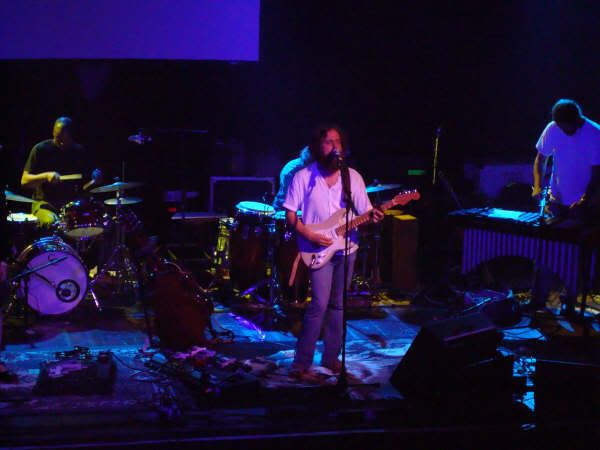 Then out came the rest of the band, which includes members of The Sea and Cake, as well as from opening act Califone. Their medley-like meld of numbers The Shepherd's Dog ("Wolves," "House by the Sea," "On Your Wings," and "Pagan Angel and a Borrowed Car") added some percolation to the proceedings. But whereas on record, each resounds like a swampy outtake off of Talking Heads' Remain in Light, live they seemed to take on a peculiarly island sound, which is strange, considering the former Miami resident now lives outside of Austin.
Even the boogie-woogie whoosh of "The Devil Never Sleeps" bubbled up out of the bayou and beached into some Caribbean stream of sonic consciousness, an unfortunate twang indeed. I blame the marimba, which should never, under any circumstances, be used to propel anything other than a cruise ship.
Still, despite the odd expanding, the man at core remains the same old reticent troubadour. Which means, of course, that semi-quiet, semi-hits such as "Woman King," "Cinder and Smoke" and "Naked as We Came" were among the many high points hit at Revolution. But perhaps the highest light came from that hush. I tell you, there's something stunning about standing amid a thousand people who are utterly still, stunning enough to keep even a contrary cat like me from shooting off his loud mouth. Now that's a highlight. – John Hood
Personal Bias: I like smart guys, even when they're not being smart-asses.
Random Detail: Beam seems newly shorn of his mane (though alas not his beard).
By the Way: Iron & Wine live shows are now available for download on www.PlayedLastNight.com. Lauderdale should be up soon.