Here's the second installment from our guest blogger, Sir Winston, proprietor of Churchill's Pub in Miami. Here are his highlights for SXSW day three, Friday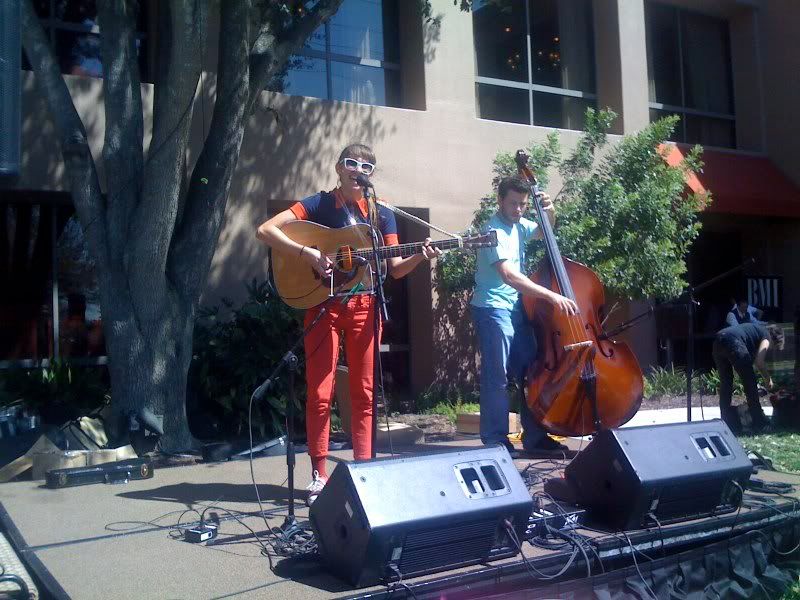 Rachel Goodrich
Rachel Goodrich woos new and influential friends
Miami native Rachel Goodrich's three-song set at the swanky BMI/Billboard Luncheon on the lawn was truly a coming-out, debutante style. She was accompanied by Mike Bordolon on double bass, and carried, as well, her trademark kazoo and ukulele onstage (besides her guitar). She was one of the newest and as of then, most unfamiliar names to the crowd of high-profile industry professionals. (This was not true of most of the other artists at the gig, which included Grammy nominee Eldar, international star James Yuill, and well-known composer Kaki King). However, she proved herself as someone who soon would be recognized in her own right. The producer and publicity agents at the front table were generous in their praise, and she garnered much applause from a large audience. Perhaps next year she can play a full showcase at SXSW.
Torche: "the heaviest thing I've ever seen"
This was the comment overheard after the afternoon gig by Torche at The Long Branch Inn. Juan Montoya, the band's guitarist gnome, duly replied with instructions on how the man could get a double dose -- by going to the Hydra Head (the band's record label) showcase at Red 7 later that evening. Having arrived late due to a navigational error, as well as being at the wrong party for 15 minutes (across the street, a real problem during SXSW as everywhere you go there is a stage), we were pleased to see that we couldn't see, because the crowd was thick and very exuberant. But if you've been to a Torche gig, you know its really about the feel of the music, and yes, you can really feel it pound through your body with sledgehammer intensity. I was glad of my ear protection -- very glad. I hope to feel them again in South Florida very soon.
Ash Grundwald saves Aussie Barbie
As anybody who's been to an authentic Australian BBQ will know it ends when the beer runs out, and on a day when the mercury was pushing 38 (they use Celsius, don't you know) or mid- to upper-nineties, if you prefer, this happened shortly after 4 p.m. It could have been a disaster; international relations could have been strained and questions asked in the House back in Canberra. Instead just a few murmurs were heard, and no one spat the dummy (slang for throwing the pacifier out of the stroller). All because Ash Grundwald had the majority of attendees – serious music critics everyone, not bludgers (just google it) responsible for the lack of beer – completely enthralled by his one-man-band, blues-influenced romp. His set contained more grooves than you would think humanly possible, created with just a guitar, stomp box, and a couple of foot-controlled gizmos. Well done, mate, you were ripper and saved the day – well, you, and the free wine and vodka.