A couple of months ago, I took a little pleasure in debating the possibilities of the new "Rockstar Menu" announced by Denny's. Read that piece to get all the details -- but in a nutshell, the 24-hour psuedo-diner chain recently launched it's "Denny's All-Nighter" campaign. They're sponsoring bands with free food, but have also let four higher-profile bands create a signature dish each, to be served on the late-night menu from 10 p.m. to 5 a.m. (That menu has also been enhanced with new college-haute-cuisine dishes like "Potachos" -- think loaded nachos, only made with potato chips, and the "Cinna Sweet Ride" -- unsalted tortilla chips covered with a bunch of sweet crap like chocolate syrup. F'reals!)
Anyways, the long-awaited band-themed menu items launched a couple nights ago, so it was with a little beer-soaked anticipation that, on the way home from the last MoCA Battle of the Bands, I dragged my companion to a Denny's to take the plunge.
As part of the whole "All Nighter" campaign, the restaurant is supposed to feature different uniforms, and "alternative rock." Well, my waitress was wearing a rock and roll type jean jacket, but that's probably because the restaurant was freezing. As for the soundtrack, well, it wasn't much changed, with the requisite "Ma Cherie Amour" by Stevie Wonder playing within five minutes of sitting. But on to the food.
My prediction for the Plain White T's dish was that it would be "treacly, sweet, and vanilla-flavored." I was so right! Behold, the "Plain White Shake":
It's made with vanilla ice cream, cheesecake bits, some other kind of vanilla syrup that prematurely melts the whole thing, and then whipped cream and white chocolate chips on top. It's always a good sign when one's waitress returns within five minutes of serving something and tentatively asks, "Did you find it too sweet? I think it's too sweet." Well, sure, and also runny and sticky -- kind of goes down comfortably at first, but then incurs major self-loathing. Much like the music of Plain White T's themselves.
Because I like the band, I also decided to order the Eagles of Death Metal's dish. (On the front of the menu, the band is referred to as "EoDM," I guess to get rid of the whole pesky "death" word). On the menu itself, Jesse Hughes is saying he wanted his dish to be "tasty, immediate, and something to satisfy you at 2 a.m." Ah, a stoner after my own heart. Here's their awesomely named "Heart on a Plate."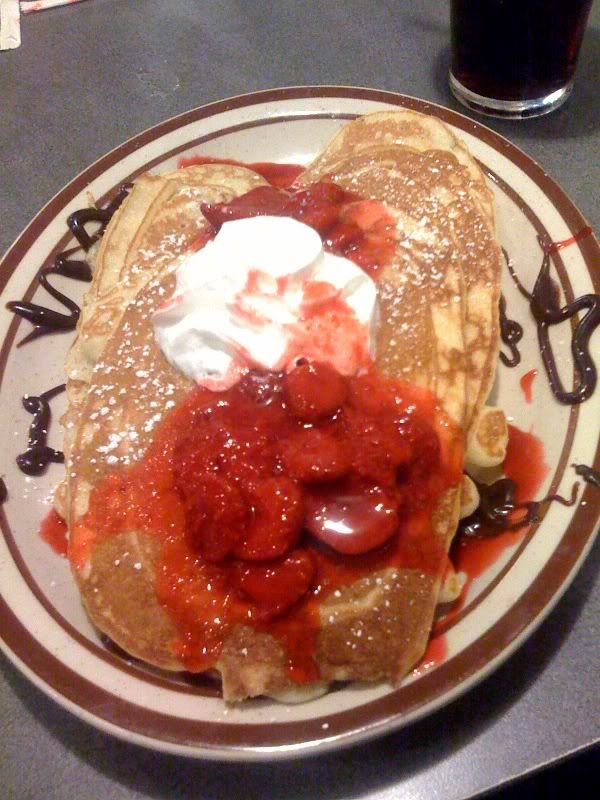 That's a stack of three pancakes that are supposed to be heart-shaped, those sweet sundae-style strawberries in syrup, whipped cream, and some kind of chocolate sauce underneath it all. It's meant to be eaten with regular pancake syrup too, and my dining companion dubbed it "Diabetes on a Plate." Seriously -- never order this with the Plain White Shake unless you have a pancreas of steel. Did I mention it also comes with a separate plate of eggs, bacon, and sausage?
Now, finally, the dish whose name made me giggle the most -- the "Taking Back Bacon Burger Fries." Coming from Lawn Guyland, Taking Back Sunday should be real connoisseurs of diner food. Here's what they came up with, and it's not the most eye-pleasing thing on arrival:
It's, well, fries, covered with the exploded contents of a bacon cheeseburger on top, complete with chopped up onions, pickles, ketchup, and mustard. I'm not gonna front -- it's kind of good, but that's mainly because I prefer my drink-and-drug snacks savory rather than sweet. I mean, fries and a burger taste good when eaten together anyways, so why not just cut to the chase? Just ignore how it looks at first.
Final verdict: Eagles of Death Metal's dish wins just for the name, but please do not order any of this while sober. (Then again, what are the chances of that if you're wandering into a Denny's between 10 p.m. and 5 a.m.?) But from behind a hazy perception-dulled screen, hey, it's kind of tasty -- in quantities of about 1/5 the size of the actual served portions.
....Oh yeah, there was a fourth item, the All American Rejects' "All American Rejects' S.O.S" -- that's hamburger meat, cheese, and grilled onions on Texas toast, smothered with that white gravy stuff and surrounded by hash browns. Hello, that's what's known in America's greasy-spoon parlance as "Shit On a Shingle" -- S.O.S. Bon appetit! -- Arielle Castillo