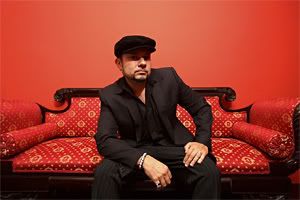 In this week's special Winter Music Conference guide, we spoke with house legend Louie Vega -- click here to read the story. Of course, there are always interview outtakes, so for Louie's true fans, here's the full Q&A. -- Arielle Castillo
Little Louie Vega performs Thursday, March 27, at the event Roots Presents Vega Records, Blaze Imprints, Soul Heaven, and Fania Records. The party takes place at the Vagabond, 30 NE 14th St, Miami. Doors open at 10 p.m., and admission is $20. Those 21 and older are welcome with ID. Visit www.myspace.com/thevagabondmiami.
Check out this video clip of Louie Vega talking about his Elements of Life project and Vega Records signee, Latin percussionist Luisito Quintero.
You live part of the year in Miami, right?
Yeah, we've got a place and we're there a few times a year. We always loved Miami, you know what I mean? Between having a nice beach to go to, and the people are great, it's kind of like a little version of New York City to me, but on the beach. You got a great group of people there that are very musical, into art. I really like it a lot; there are great places to eat out there. The weather's warm, and it's only a couple hours away from New York.
I read an interview with you where it seemed you were really nostalgic about the days of the first superclubs in New York. But when you play here in Miami, with a couple exceptions, you're usually playing more intimate rooms. Have you had a change of heart?
These days it's very been about the intimate rooms. I love them; it's almost about playing a house party, in a way. In New York I do a night called Roots at Cielo every Wednesday, and that room only holds about 300 people, but it's an incredible sound system, a really nice vibe. The atmosphere's great.
But you're also playing huge places overseas like Ministry of Sound in London.
When I play Ministry of Sound I do a party called Soul Heaven. It's really all about the party everywhere you go. Soul Heaven is purely dedicated to soul music. I play just the way I play at home; it's fun to get soulful. You can get tracky if you want. I mix it up. There's definitely a feeling in the air, people love to hear songs, sing along with the songs. It's also a multicultural, you get the English, the Italians, people from Switzerland, France, all over Europe that come to enjoy that party that happens every three months.
How does that sound go over in such a huge room?
It's great because you hear vocalists and songs. These days it's not just one type, it's not the diva vocal only. It's a mixture. I play everything from world songs, African sounds, it can get tracky, it can go from Carl Craig to Louie Vega, you know what I mean? All different directions. I think there's soul in all kinds of music. There's a certain feeling that you get – tones that give you goose bumps. At the end of the night people are walking out with big smiles on their faces and feeling enlightened by the whole thing.
The other day when we met, a mutual friend was absolutely raving about a new project you're working on with Anané. Tell me about that.
Anané is the female artist who sang on the Elements of Life project I had, that I started five years ago. And ever since then, we've been traveling the world with an 11-piece band. Wev'e gone on the road a few years together, and we've played all types of festivals, like the Montreal Jazz Festival, even the Roskilde Festival which is more rock. We've done Spain, England, France, Greece. We've done all these countries in the past four years.
Anane sang about four songs on the album, and the good thing about her is that as well as being a great songwriter and a singer, she sings in different languages. She sings in Cape Verdean, in Portuguese which is similar, also in French, and of course English and Spanish. She wanted to record her solo album, and I thought it was a great time to do it. Just creating an album that had a lot of her hits, her singles that she's put out with us on Vega records.
From there, it kind of led to -- I started feeling from her that there was all this music inside of her that wanted to come out, so we got together and kind of rehashed the whole thing, and started creating a whole new album.
It ranges from rock to reggae to calypso to pop dance, to world music, even R&B. She's got this flavor that is all these different colors of music. I really, in the last four-and-a-half months, got to pull out of her the kinds of things she wanted to do. We got together with a lot of friends of ours, cowriters and collaborators, like Duane Harding who wrote "Love Generation." We also got Lisa Fisher, who's a Grammy winner, and she sings background for the Rolling Stones, Tina Turner, groups like that. And she came in and cowrote with Anane some tunes. We were doing these great reggae-style tunes, rock inflections, all kinds of stuff going on on this album.
So your role here was as producer mainly....
I was the producer, and I also did all the music actually. It was really interesting because I was sort of customizing and tailor-making the album to her, instead of Elements of Life where it's coming out of my head, the way I see it. It was great, and I loved it. It was a different way for me to make music.
Then again, over the years, I've always been a producer who's been able to work with a lot of artists. We produced George Benson, all these artists with the Nuyorican Soul Project.
I'm really excited about the project. It sounds really – it's fun, but it also has its critical acclaim moments, like, Wow, this is heavy production, she sounds amazing.
When does it come out?
It's gonna be released in June. I presented the project to Tommy Boy records, and they loved it. So now she's in the process of doing all the photo shoots, shooting a video for the first single, "Shake It." And surprisingly, we were in Miami a couple weeks ago and they played it on Power 96! So they're into the song. And over here, it's interesting because the urban stations are getting into it.
We knew that song would cater to that, but we didn't know how the reaction was going to move, as fast as it is. Her first single features Mr. Vegas and Tony Touch; it's a really fun dance calypso tune. It's got urban appeal, Latin appeal mixed in one. She wanted to do a fun song.
From there she's got these world influences, these other tunes that are real anthemic, and then she can go to a rock, punk thing like ESG from back in the day. From talking about growing up in the clubs to growing up in her neighborhood to growing up in Cape Verde, it's really a universal world appeal. But that first single is one that's catching on here in the U.S. So it's very interesting; hopefully everybody'll get it and then get into the rest of the record.
How's your next solo album coming along?
My solo album I'm working on now, Elements of Life, it's coming out in February 2009. It's really coming together nicely, really theatrical. It's really deep, I have two poets, Ursula Rucker, and Oveous Maximus, who has won the Apollo a few times, and they've both been on the HBO Def Poetry Jam. And Oveous is also part of the Nuyorican Poets in New York City. Anane, of course, we're bringing more of her influences into it. And now we have Lisa Fisher and Cindy Meisel, who's an amazing singer I've known for many years, as well as my Elements of Life Band, as well as some cool collaborations.
Right now I'm speaking to a Brazilian songwriter, Marcus Valle, who's the cream of the crop of Brazilian hit writers back in the day. And also a very big artist in the U.K. that we all know and love -- I'm waiting to see what happens with that. There's gonna be some really interesting guests coming aboard.
It took like four or five years to really establish the group and the name and the sound, and now I did it with artists where I started from scratch. Now that it's established I'm going to reach out to some collaborators.
Do you work with King Britt much, since Ursula Rucker's now on his label, FiveSixMedia...
Acutally, see, Ursula Rucker was on the first Elements of Life album five years ago, at the top, doing the introduction. I wanted to keep her with the group because she did such a great job, and I love the way she interprets things. I tell her what it's about and she comes up with these amazing poems and these spoken words. And these features have been great so I said, let's keep her in. I wanted continuity and I love her work.
King Britt and Jazzy Jeff were actually the ones who recommended Ursula Rucker the first time. She's been part of it from the beginning.
It seems like lately you've been really following a Latin influence, especially with the addition of someone like [Latin percussionist] Luisito Quintero to your label.
I had a lot of talent around me, and I thought everybody had their own flavor. Luisito Quintero was obvious to do what he's best at, which is Latin, world music, jazz, African rhythms. He's an incredible drummer and timbao player. With Elements of Life, obviously the sound of that record made a big impact, around the world to different people, and I felt it was important to keep that sound.
So even when I won the Grammy, for Curtis Mayfield [2005 "Best Remix" for his remix of Curtis Mayfield's "Superfly"], it's the Elements of Life mix. Because I brought our group of band members, and it was almost like mixing that sound with Curtis Mayfield.
There's another whole tier to the label, like Mr. V, who has more of this like underground house kind of sound, but he writes these really hooky songs with great concepts on them. And he's got this way of rapping and spoken word that really works in the clubs, but has the potential of reaching beyond the clubs. Also, there's Sarah Devine, who's an R&B singer, so these are all other artists. This year my main focus is Anane, and also I'm putting out an EP from Mr. V, and a single from Sarah Devine.
What's going on with Masters at Work?
We took a break from Masters at Work right now to focus on our labels and the projects we're working on individually. We threw around the idea of coming back with one of the aliases. [Masters at Work partner Kenny Dope] has his own label too, KD and Dope Wax.
How has it been starting your own record label, at a time when so many are struggling?
It's tough, but the great thing we have is that we're able to tour, and play to thousands of people. The main concern is really always focusing on our sites, and ways of people being able to communicate and get our music. We've worked hard on www.vegarecords.net, we've really been progressing with everything on the label. There's always content, mixes for people, always new music for people to listen to, we're always in all the digital stores, from iTunes to Beatport. Now we've progressed to having a single every single week, with an album a month, with the different bundles that we put out from our catalog, I think we're really establishing ourselves out there. So all the DJs are looking.
A single every week?
I name them after cities. Right now I have Ponce. New York City's gonna be one of them next, Tokyo, and yeah, I'm doing one for Miami. Get ready!
Are you still doing much physical product, or are you focusing on digital distribution?
We're putting out physical product. We still do vinyl for Louie Vega records, the collector stuff. But right now the next Anane project is coming on Tommy Boy records, so we're thinking of releasing a really well-packaged few volumes of the actual catalog with some good liner notes, a really good story, maybe.