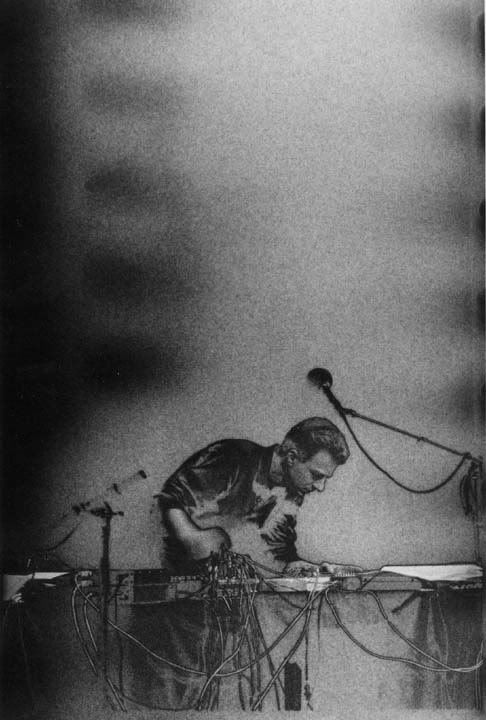 Handmade Electronic Music by Nicolas Collins
Harold Golen Gallery, Miami
Sunday, March 30, 2008
Better Than: Making music using GarageBand
There's beauty in chaos, especially when electronic hardware hacker Nicolas Collins gets his hands on some odd machines and lets his mind come up with unusual, yet stunning sounds.
Long before the advent of music-making computer programs, hackers around the world were toying with assorted electronic equipment, creating strange, original electronic compositions. As one of the leading figures in the world of analog electronics hacking, Nicolas Collins has worked with avant-garde luminaries such as John Cale and has published the book Handmade Electronic Music, a comprehensive how-to guide for would-be music hackers.
Sunday night at the Harold Golen Gallery, Collins offered a rare glimpse into the inner workings of early computer music. The fiftysomething composer was in town giving a two-day seminar workshop for this year's WMC, at the Florida Art Center. After its conclusion, Collins headed straight for the gallery, where a sizeable crowd of left-field music fans awaited his performance.
The two-hour concert featured the piece "Pea Soup," a composition that consists of random noises augmented by the participation of eight audience members, who improvised using different distortion frequencies. The end sound effects filled the room with strange, yet melodious musical loops. The evening's highlight, however, came in the second half of the show, when Collins gave a computerized reading about his experiences with famed composer John Cage. Using his MacBook Pro laptop as his backdrop, Collins guided listeners with concise history of electronic music.
The centerpiece of the performance happened when Collins introduced one of his notorious hacked instruments, a traditional trumpet altered with a homemade computer motherboard. The trumpet, attached to his laptop, was tweaked to make random noises, including a sample of Chic's Seventies disco hit "Le Freak." The continuously changing melodies made for a wild and emotional piece full of unexpected moments.
Granted, this music is not aimed at the general public. But for those curious about the beginnings of electronic music, Mr. Collins' performance came as a reminder of an age before superstars DJs and laptop jockeys. -- Jose Dávila
Random Detail: As a cool bonus, the Harold Golen Gallery was showcasing artworks by Mark Mothersbaugh, lead singer of the seminal new wave band Devo and a life-long advocate for experimental electronic music. It was the ideal setting for Collins' innovative sound hacking.
By The Way: The concert was part of 12 Nights, a series of intimate concerts at the Harold Golen Gallery featuring electro-acoustic music.