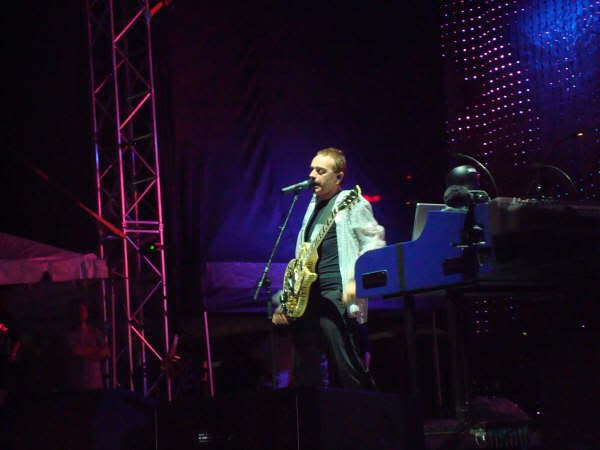 Underworld at Ultra Music Festival
Bicentennial Park
Saturday, March 29, 2008
Even after 10 years of the Ultra Music Festival and 23 years of Winter Music Conference, it's still sometimes difficult to fathom the onslaught this week brings to Miami. I mean, really. Pulling myself outta Moby's set in the Carl Cox tent to catch Pete Tong wrap up for Underworld? Who coulda thunk it?
Well, apparently the Ultra folks, that's who. And it's them that I hold fully responsible for giving me and about 50,000 wild-eyed dance fans such a stellar segue – and such a swinging night under the stars.
Cool guy that I claim to be, I don't so much go for tent sweat, so my drive-by for Moby was brief and fleeting. Likewise I didn't dance it off for Tong, though the thousands who did do so did left my heart skipping along.
But Underworld got my ticker skipping to a whole 'nother beat, then doubling back in on itself. Forget the earplugs that the security cat in the pit instructed me to get – I should've had a bass-proof vest, 'cause at the foot of the stage where I stood the low-end was loud beyond imagination.
Pump, thump and slam, it went straight into the thicket of my soul and never left. "Crocodile" crunched, "Rez/Cowgirl" cranked, "Spoonman" slammed, and – yes! – "Born Slippy" swelled like a live-action soundtrack on steroids.
Gadget-cats Rick Smith and Derrick Price, naturally, manned enough gadgetry to slay both Kubrick and Clarke, and frontman Karl Hyde, supernaturally, had more moves than an asteroid on crack. But it was the mega-crowd which really propelled this merry-mad band of fest vets, and it was for the crowd that Underworld came. – John Hood
Personal bias: Trainspotting, the movie version on whose soundtrack "Born Slippy" famously appeared, was always my idea of a bloody good time.
Random Detail: At one point during "Born Slippy" it seemed as if every single foot at the fest left the ground at exactly the same time.
By the Way: If I had any guts, I'd shut up and dance.