The Indiana Pacers' Paul George had himself a coming out party. He led Indiana with 27 points, and hit an impossible 30-foot three-pointer to stun the Miami Heat and force overtime. Then, with just 2.2 seconds remaining in the OT, George hit three consecutive free throws to put the Pacers ahead.
And then LeBron James went ahead and completely obliterated all of those nice achievements in one fell swoop of massive soul sucking, dong smashing, Cobradicking atomic-powered game-crushing layup that shook the pillars of the heavens and made it rain blood in the streets of Indianapolis.
The Heat were able to take Game 1 of the Eastern Conference Finals in a nail-biting, nut-kicking 103-102 overtime victory.
Here are the three ways they got it done:
1. There Is Cobradick, And Then There Is MechaCobradick
The most ass-clenching thing about LeBron James is that he is capable of doing this pretty much whenever he feels like it. Sure, there will be missed shots and bad passes from time to time. Every now and then a defender may alter one his shots, if that defender is lucky. But those are the rare exceptions. The rest of it is LeBron being LeBron, the physical embodiment of an indestructible rebel force.
The Pacers punched, prodded and willed their way through Game 1 of the Eastern Conference Finals. They got a lot of help from bad officiating (which was bad on both sides), and even more help from sheer bullshit put-your-cat-into-a-laundry-bag-and-punt-it-off-a-bridge luck, and still got blowtorched in the face by the league MVP.
George knocked down those free throws with 2.2 seconds and the feeling of being punched in the nards with a bowling ball in the American Airlines Arena was palpable.
Then, with those precious seconds wining down, LeBron caught the inbounds pass, faked right, went left, and rocketed passed George, of all people, towards the rim for the game-winning, get-the-fuck-out-of-here, let's-all-go-do-some-blow-off-a-stripper's-ass, layup.
He didn't have his best game. He was sloppy with the ball at times, and took way too many HERO BALL shots at the most inopportune times.
The Pacers played him as physically as they could, and some say had Roy Hibbert been in the game, that layup might never have happened.
But here's the thing, teams can throw their best, tallest defender at him. They can fire tank shells at his face, try to light him on fire, attack him with surface-to-air missiles, or armor-piercing bullets, and it will still do them no good. These things only serve to make him angrier.
No one has hit more game-tying or game-winning shots in "the clutch" in the playoffs more than LeBron James in the last decade. No. One.
And last night, LeBron finished the game with 30 points, 10 rebounds, and 10 assists, becoming the first player in NBA playoffs history with a triple-double and a buzzer-beater game-winner in the same game.
Michael Jordan can help himself to a dick hoagie.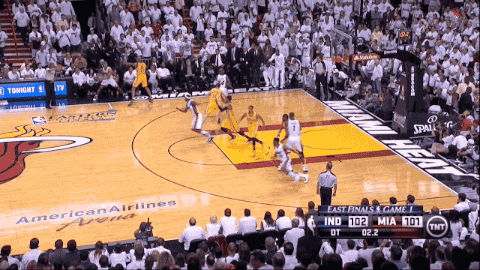 2. Chris Bosh Brought The Velociraptor Ruckus Right When The Heat Needed It The Most
Chris Bosh can be infuriating to watch. Mainly because, when you expect him to show up large, he mostly disappears. Be it missed shots, a failure to grab rebounds, or getting into early foul trouble. He was sorely missed last year when the Heat played the Pacers in the playoffs.
In last night's game, Bosh managed to grab just two rebounds.
But oh what a huge enormous rebound that second rebound was.
With 50 seconds left in overtime, Shane Battier catapulted one of his dud three-point attempts that careened off the rim, and came straight down towards Bosh and Hibbert. Bosh timed the ball's fall perfectly, and volleyballed it into the basket while drawing the And-1 foul. He hit the freethrow and tied the game, which had seemed to be going the Pacers' way up to that point.
That play doesn't happen, and we're all having a shitty-ass Thursday talking about how the Heat let one go.
Chris Bosh was invisible throughout the entire game until that very moment. But that's only because he was creating a diversion, hiding in the brush, and waiting for the right moment to strike the death blow.
Just like a Velociraptor of him to do that.
3. THE BIRDMAN IS YOUR BIRD
If the Aztecs were still around, there is no doubt in our minds that Chris Andersen would be worshiped by them as one of their gods.
A mohawked tatted up warrior of pure energy, Andersen was pretty much the sole reason the Heat were even in this game, and why LeBron even had a chance to hit that game-winner in the end. When others were failing to pick up the slack, Birdman came thundering in with the kinetic energy of a man who consumed three cases of 5 Hour Energy with a cocaine chaser.
Birdman went 7-for-7 from the field, played punch-balls defense, and struck fear into the hearts of the Pacers with his wild staring eyes of steel.
One can only imagine what the good people in Indiana must've said when they saw this vision of ink and awesome appear on their television screens, laying waste to rebounds and bringing the anvil to their beloved clean-cut Tyler Hansbrough's nuts.
"ERR MERR GERR! A BIRR MERR KILL'D HANSBRERRR!" they said, probably.
When Andersen was hit in the face, and his nose stated bleeding, he shoved remnants of whatever was left of Nate Robinson from the previous series into his nostril and kept playing.
Andersen then proceeded to show why he was such a valuable mid-season pickup for Miami.
Andersen, a bird genetically mixed with a man, a bottle of Jack, and the entire Megadeath catalog, scored 16 points, and established himself as the Aztec God Of Annihilation And Super Cool Tattoos And Sweet Mohawks.
Every time Andersen was on the floor, amazeballs things happened for the Heat, which makes you wonder how many more minutes he'll be getting as the series moves forward.
Follow Chris Joseph on Twitter
We Believe Local Journalism is Critical to the Life of a City
Engaging with our readers is essential to New Times Broward-Palm Beach's mission. Make a financial contribution or sign up for a newsletter, and help us keep telling South Florida's stories with no paywalls.
Support Our Journalism
---
---