LeBron James is the hero Miami deserves.
It was exactly one week ago that James broke his nose against the Oklahoma City Thunder. And after missing one game in between, LeBron returned to the night to fill his enemies with dread like Batman.
Literally.
Much to the delight of the internet, James wore a protective black carbon-fiber mask that made him look more menacing than he already is. It also made him look like the Dark Knight.
If the Dark Knight were a head-smashing, ball-wrecking, hitting-the-Knickerbockers-in-the-face-with-his-ginormous-dong badass, that is.
See also: LeBron James Bought the Heat WWE Championship Belts
LeBron and the Heat wrecked the Knicks 108-92.
As it is with everything LeBron does, the media were ready to make his nose injury and how it would affect him the narrative. Just as they did with his seemingly innocuous Mount Rushmore comments two weeks ago, the media (*coughESPNcough*) was all set to start a different narrative, one in which the MVP's nose would now be his downfall.
But as he's continually done in the past four seasons since arriving in Miami, LeBron has snatched the narrative from the media's Golum-like paws to weave his own epic narrative of carnage and destruction.
And now he was going to do it looking like a fucking badass superhero.
In addition to being completely terrifying by rocking a mask that made him look like Gotham's savior, LeBron also threw down 31 points on the visiting New York Knicks, going 13-for-19 and flushing down dunks so ferocious, the Knicks players shit bees.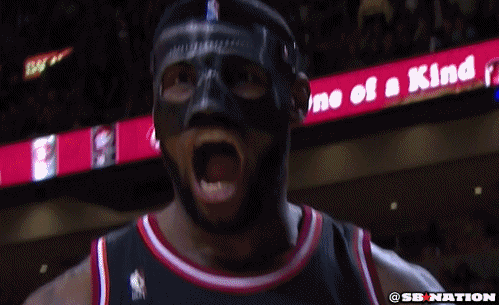 LeBron told the media before game time that he was feeling a little tentative, having to wear a cumbersome mask. But none of that seemed to be the case. He was in attack mode all night and even waylaid the Knicks with a massive dunk in which he almost rearranged Amare Stoudemire's molecules.
If you look closely enough, you can see the exact point in time when the Knicks players' souls fall out of their assholes.
And then there was, of course, Twitter:
I'm terrified #CobraMask pic.twitter.com/GJvN7vPMHH

— Jake Winderman (@jakewinderman) February 28, 2014
LeBatman pic.twitter.com/5g9R1WtJbo

— SB Nation GIF (@SBNationGIF) February 28, 2014
But no one seemed to have more fun with it than Chris Bosh, who put the mask on after the game and snapped this picture of himself:
Send your story tips to the author, Chris Joseph. Follow Chris Joseph on Twitter
---
---
Follow @NewTimesBroward