When the Miami Heat clinched the NBA title last Thursday, we almost lost Chris Bosh to a stray piece of confetti that threatened to get lodged in his throat.
Then, on Monday, during the team's championship parade through the streets of Miami, LeBron James was almost decapitated a few times by bridges.
An estimated 400,000 people showed up and waited under the blazing sun to watch the Heat players and coaches travel through the streets on double-decker buses, because Heat fans are apparently the worst people in sports.
Players were perched atop the buses, waving to the throng of people, and shooting water at them with Super Soakers.
LeBron, who was on top of one of the double-deckers, had to duck down twice before the bus drove under an overpass... and then another overpass.
The bus was going slow enough and LeBron was never in any real danger.
But still... look how low that is.
WE ALMOST LOST OUR MVP IN THE STUPIDEST WAY IMAGINABLE!
Other highlights of Monday's parade included Chris "Birdman" Andersen calling himself a "a crazy-ass white boy," and Udonis Haslem giving us the quote of the day when he said:
"I've been known to kick ass from time to time. To pay $2,000 to slap someone upside the head, I'll do that all day."
God, we love UD.
We also love Chris Bosh, who answered how he's feeling in Spanish. "Me siento bien! Muy bien!" he said.
Other highlights included LeBron sharing his feelings about the championship parade with SunSports. "It's the ultimate," James said. "This is what I came down here, to be able to have a parade at the end of the year. I'm extremely blessed, man. It doesn't get any better than this."
And then there was the HORSETRONAUT.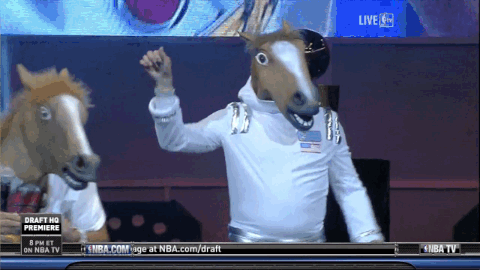 This team is so much fun.
Here's to more championship parades in the Heat's future! As long as they don't get our best player killed.
Follow Chris Joseph on Twitter
We Believe Local Journalism is Critical to the Life of a City
Engaging with our readers is essential to New Times Broward-Palm Beach's mission. Make a financial contribution or sign up for a newsletter, and help us keep telling South Florida's stories with no paywalls.
Support Our Journalism
---
---